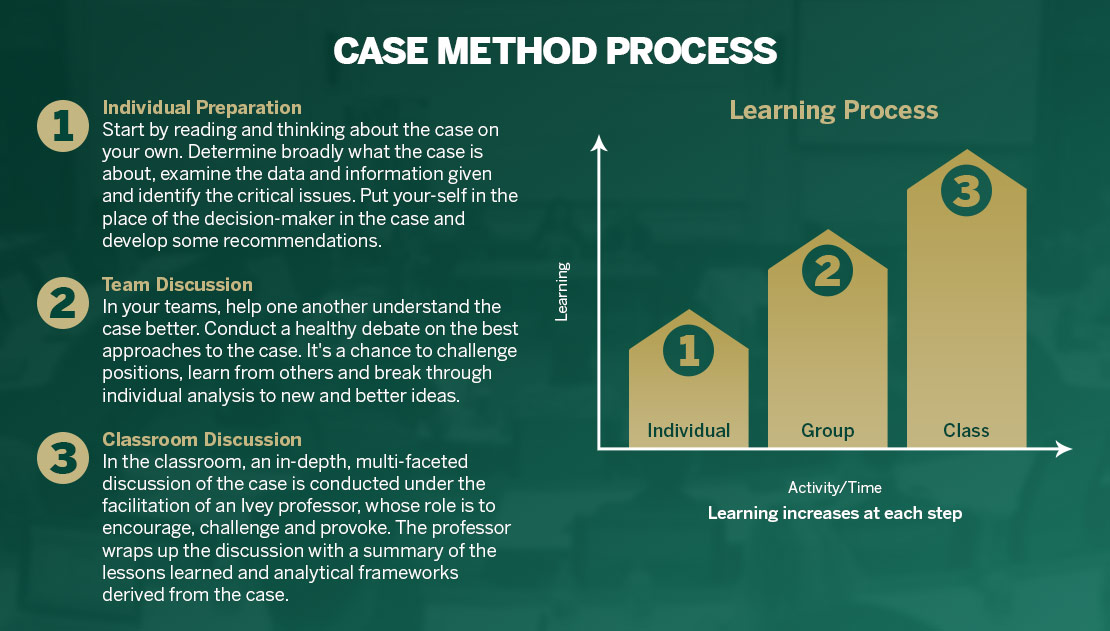 The Ivey Learning Approach
The Ivey learning approach is based on learn-by-doing, not just learn-by-listening. What managers truly need doesn't come in a textbook. It's experiential and intuitive.  It's something we call the Ivey Learning Experience. Through this Experience, we immerse you in real business challenges under the guidance of experienced faculty. The Experience is carefully orchestrated to mirror the business decision-making process and integrate across business disciplines.
At the heart of the Ivey Learning Experience is the case study method. Through this experiential learning, you'll find yourself in the shoes of decision-makers, struggling with real challenges, incomplete or too much information, time limits, people issues and resource constraints. Combining the case method with other experiential learning approaches, including simulations, group exercises, industry experts, action-learning experiences and facilitated discussions, you'll develop a set of skills to effectively analyze issues, develop strategies and execute plans successfully.
Cases present issues and challenges across a wide range of functional areas, levels of responsibilities, types and sizes of organizations and industries, as well as locations throughout the world. Moreover, cases provide information about how work is planned and organized in various settings, how systems operate and how organizations compete. There is a wealth of learning opportunities in each case that students unlock each time they put themselves in the decision-maker's position.
Benefits of the Case Study Method
Learn from real world business situation
Retain more of what students learn because they are actively participating rather than just listening
Benefit from the vast experience, knowledge and insights of other participants
Develop students' judgment and hone the decision-making ability, even with imperfect information
Learn to think on the feet, communicate your vision and defend your recommendation