At our Asia campus, you'll enjoy The Ivey Experience in full. Our team works closely with our over 300 staff and faculty in Canada to deliver the 'pure Ivey' experience. As a result, our Asia cohorts earn a world-class degree that is truly equivalent in every respect to one from our Canadian campus. Meet our Asia team here.
(852) 2808 4488
(852) 2135 2299
executives@ivey.com.hk
Team Member Information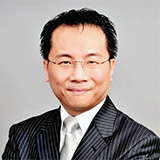 Professor Chris WH Chan
Professor & Associate Dean, Asia
Phone: 2135-2288
Email: cchan@ivey.com.hk
Chris WH Chan is Professor and Associate Dean of Ivey Business School, and faculty director of executive education for Ivey. He has held leadership roles at renowned universities with advanced and extensive experience in graduate business education and corporate executive development.
Prior to joining Ivey Business School, he was Professor of Accounting at Cornell University's School of Hotel Administration, and Dean of the Cornell-Nanyang Institute in Singapore. At Cornell, Professor Chan was responsible for the brand elevation and growth of Cornell University's Master of Management program, as well as represented Cornell in developing alumni and corporate relations in Asia.
Before his relocation to Singapore, Professor Chan was Assistant Dean and Director of MBA programs at the University of Hong Kong (HKU), where he was responsible for MBA brand development, marketing and admissions, financial and program management, academic affairs, and corporate and media relations. Under his leadership, the HKU MBA was ranked by The Economist, "Which MBA?" as No. 1 in Asia in 2010 and 2011. HKU MBA is also ranked No. 29 (average rank No. 32 over three previous years) in the Financial Times Global MBA Ranking 2014. In 2009, Professor Chan was one of five professors awarded the prestigious university-wide Outstanding Teaching Award by the University of Hong Kong.
Based in Hong Kong, Professor Chan has more than 19 years of consulting and executive education experience in corporate talent and development (T&D) working with regional corporate universities. His work includes development and delivery of custom and consortium L&D programs for multinationals in the region, as well as public sector organizations in Hong Kong and Singapore. A sample of his corporate clients includes LVMH, Agricultural Bank of China, Chow Tai Fook, Manulife, NTT Com, Norwegian Shipowners' Association, A.S. Watson Group, Wal-mart, Esquel Group, Swire Group, ABN-Amro Bank, China MinSheng Bank, Hutchison Ports, HSBC, Central Bank of Bahrain, Lucent Technologies, Roche, General Mills, Hong Kong Government Civil Service Bureau, SGS, Shui On Land, TAL, New World Mobility, Asia Wall Street Journal, and South China Morning Post.
Robert Chan
Associate Director, Business and Partnership Development
Phone: 2135-2241
Email: rchan@ivey.com.hk
Priscilla Liu
Senior Manager, Program Services and Development
Phone: 2135-2277
Email: pliu@ivey.com.hk
Tracey Li
Program and Operation Manager
Phone: 2135-2221
Email: tli@ivey.com.hk
Jane Wong
Finance & Administration Manager
Phone: 2135-2255
Email: jwong@ivey.com.hk