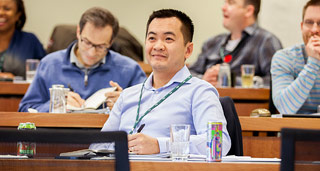 Learning by experience is an effective approach to talent and executive education, and learning from the experience of peer organizations is equally valuable. A key value proposition of the Ivey Consortium Programs is to create a synergetic learning experience among leading, non-competing organizations and for their executives to improve business decision-making and share best practices. Coupled with Ivey Executive Education's renowned case teaching methodology, participants of the Ivey Consortium Programs sharpen their strategic vision, hone their commercial skills, heighten their business cultural sensitivity, and elevate their professional networks in corporate Asia.
Similar to custom programs, Ivey Executive Education works closely with partnering organizations to shape program design and subject content composition, delivery timing and format, and manage development costs and executives' time commitment in an effective manner. With 25-35 executives from five to eight non-competing organizations typically joining the Ivey Consortium Programs, each executive benefits from an engaging learning environment and highly interactive experiential exchanges.
Key Program Objectives and Benefits:
Strengthen leadership capabilities
Elevate strategic thinking to a new level
Attain cross-enterprise management perspectives
Gain insight into global and Asian business best practices
Understand how to lead and manage change
Benefit from diverse networking opportunities with high-achieving executives
The Ivey Consortium Executive Program (ICE) and Accelerating Management Talent Program (AMT) are two well-established and popular examples of Ivey's Consortium Programs conducted at our Hong Kong campus.
Description
The AMT program increases the business unit leadership and strategic thinking skills of high-potential mid-level managers. Participants will gain a cross-functional perspective and learn the keys to effective execution of corporate or business strategy. This 8-day program consists of any 4 out of 6 modules and is delivered over a 6-month period:
Competitive Advantage Through Marketing
(September 2017)
Leading High Performing Teams
(October 2017)
Managing Financial Resources for Business Decisions
(November 2017)
Strategic Planning & Execution
(December 2017)
Innovation and Revitalization Through People
(January 2018)
Leading Change
(February 2018)
Key Learning Objectives
Learn to manage teams for exceptional performance
Expand personal and professional effectiveness
Understand strategic analysis and implementation
Learn to analyze financial performance
Understand how to identify & assess market opportunities
Target Audience
High-potential managers, technical professionals and functional specialists with 5-10 years of management experience. Participants are involved in the execution of organizational, business unit or functional area strategy.
Description
The ICE program increases the organizational leadership and strategic management skills of senior executives. Taking a general management perspective, the program enhances participants' ability to formulate winning strategies and align organizational structure and strategy. This 12-day program consists of 4 modules and is delivered over a 4-month period:
Strategic Marketing Planning
(September, 2017)
Leadership & Management of Change
(October 2017)
Optimizing Financial Performance to Achieve Business Success
(November 2017)
Strategic Analysis & Action
(December 2017 )
Key Learning Objectives
Enhance personal and organizational leadership abilities
Learn to lead major change initiatives
Acquire frameworks to develop sound competitive strategies
Learn to use financial analysis in decision-making
Understand how to create competitive marketing strategies for growth and profitability
Target Audience
Executives with ten or more years of management experience. It is assumed that participants of this program have a role in the development of organizational or business unit strategy.
Who Should Attend?
The Ivey China Consortium is designed for multinational and Hong Kong-based companies with significant footprints and talent development and retention needs in China, as well as for Chinese enterprises positioned to expand beyond China's domestic market. By creating a synergetic and practical learning environment, Ivey's renowned learning by engagement and case teaching approach serves as the ideal platform to facilitate interactive learning among international and Chinese companies.
Description and Format
This program enhances business unit leadership and strategic thinking skills of high-potential mid-level managers. Participants will gain a cross-functional perspective and learn the keys to effective execution of corporate or business strategy. With strong content and contextual relevance to China business, this 12-day program consists of 4 modules and is delivered over a 4-month period in key city(ies) in China by Ivey Faculty. Teaching materials and language are in Chinese.
Newly Designed Modules and Key Topics
Market Development and Brand Management
December 8-10, 2016, Shanghai
Understand the nature of marketing and details about marketing planning.
Analyze the options for consumption value creation.
Investigate the goals of brand building and brand management.
Explore the road from subcontracting to brand marketing.
Managing Financial Performance and Resources
January 12-14, 2017, Shanghai
Understand and connect firm business model with financial performance.
Appreciate relationships between firm strategy and financial decisions.
Manage capital needs to achieve financial flexibility.
Develop commercial acumen and skills in management decision-making scenarios.
Make sound strategic investment decisions in inbound and outbound expansion scenarios.
Leadership in Action
February 20-22, 2017, Beijing
Enhance leadership capabilities to build high performing individuals, teams and enterprises.
Identify, develop and coach leadership talent and build a culture of performance and accountability.
Hone change leadership skills by analyzing resistance and support for change.
Use appropriate change strategies to overcome resistance and build support, and create/sustain an effective change plan.
International Business Strategy
March 23-25, 2017, Beijing
Internationalization strategy and market entry. Mode choice and integrating foreign market entry strategy with international strategy.
Role of country general manager as the link between corporate strategic objectives and front line implementation.
The strategic logic of cross border M&As or international alliances. Partner selection.
Aligning international strategy and international structure and projects.
Learn More
Discounts for early bird enrollment and 3 or more registrations from the same company are available.
To learn more about Ivey's Consortium Programs, please call us at (852) 2135 2242 or email executives@ivey.com.hk for a conversation with Ivey's Executive Education team.